Description of Business

Electronic control components, large-scale sheet metals and metal-cut
products essential to your products
By continuously improving our microminiaturization technology, high accuracy and precision,
and with our functional designs, sophisticated technologies and equipments,
we meet your various wants and needs.
Design Development Division
Professionals leading electronic equipment technology
for the next generation.
Development planning requires a unique point of view.
This idea of ours leads us to keep on seeking new points of view and to sometimes
take novel ideas to meet our customers' requests even in EMS business.
To support this, we develop and enhance various designs and technologies,
and by fusing them, we propose, develop, design and make prototypes seamlessly throughout customers' requests.
Cooperation among our people and divisions expedites deliveries turning time into added benefit.
In the wide business fields such as in-vehicle equipment,
industrial measuring instruments and
consumer appliances, we can offer
quick and high-quality
development.
Circuit design
Analog circuit

Various sensors, measurement, power source, analysis

Digital circuit

・CPU, LED control

Printed-circuit board

・Pattern design
Board evaluation/testing

 ・Analysis
(FMEA,FTA)
Reliability test
Vibration test
Shock test
Thermal cycle test
Heat test
Design of fixtures and chassis
fixtures for production facilities
Inspection fixtures for mass production
Various chassis including water-proof
3D-CAD
Software design
ECU and embedded software developed by

C, C++ and assembler

Open programing languages
for operations such as

・VB,VC++,C#,JAVA,
DELPHI
System design
Gas inspection system
Production management system
Wired/wireless communication
Various network devices
CAN
High-frequency circuit
The flow from order to mass production
Unconventional ideas and overwhelming speed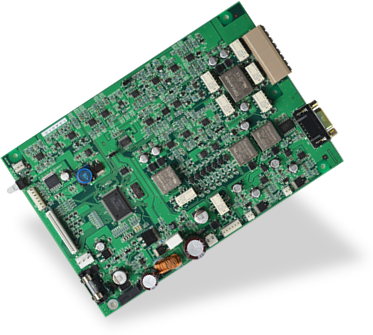 Electronics Division
Professionals leading electronic equipment manufacturing technology for the next generation.
Due to our abundant experience and lots of achievements, our technologies have been developed. In addition our operation capability is available all day long and all year round. These strengths have enabled our flexible and advanced proposals and designs as well as high-quality and speedy productions.For automotive components, measuring equipment, medical devices and even more, we can supply circuit boards whether quantities are small or large, to cover our customers' request, taking advantage of our state-of-the-art technologies and facilities. Also our sophisticated procurement for electronic components, prototyping of circuit boards and mounting on them develop our integrated production system, which provides real-time deliveries, and which also saves cost.
Production facility infrastructure that supports the electronics business
The bridge of technology closely connecting the Design and Development Division, and the Electronics Division
One of the important tasks for the Design and Development Division is to design circuit boards considering layouts for components to be mounted. The Electronics Division arranges the commercialization of those works taking advantage of its technical capabilities. This cooperation is closely arranged and strongly supported by highly sophisticated provision of our plant. Even in case of an earthquake, our strong plant equipped with various advanced facilities will sustain our supplying and high quality.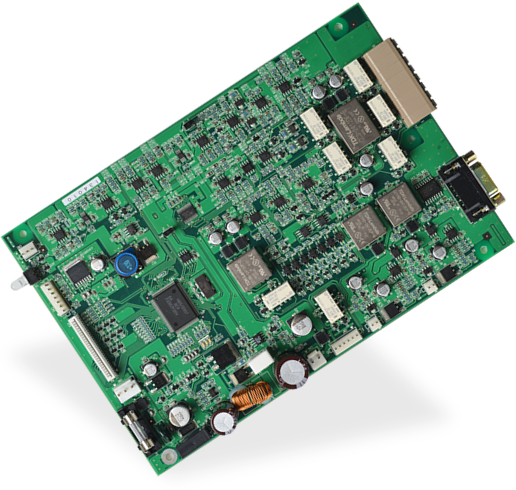 Our Plant Provision
Disaster Prevention Activities
The plants which well withstand natural disasters such as earthquakes. To minimize earthquake damage, and not to cause our customers logistic problems, our plant is equipped with vibration control dampers. AEDs are available not only for our employees but also the local residents.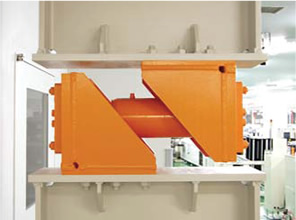 Vibration control damper
Countermeasure for Foreign Substance
All of the plant entrances are equipped with air showers, and strict one-way traffic prevents foreign particle and dust to maintain the cleanliness of the plants.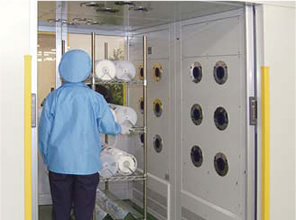 Air shower
Initiative for static protection
An anti-static floor material is used throughout the factory to manufacture the products that are safe and reliable. In addition, the company makes sure that grounding is provided for each electrical equipment and the employees wear wrist straps, etc. to prevent the parts from being damaged by static electricity.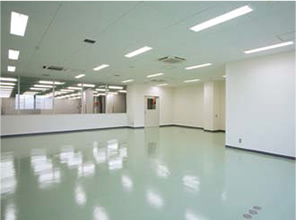 Facility with anti-static protection
Temperature and humidity control system
The temperature is automatically controlled from 20 to 28 ℃, and the humidity 40% or higher in our entire plants for electrostatic countermeasure.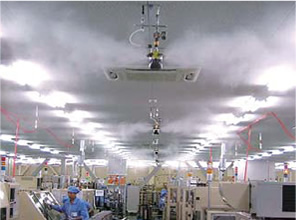 Temperature and humidity control system
Our Provision of Clean Room
Anticipating future needs, we have 4000 sq m space reserved for and designed for clean room to respond to your further demand.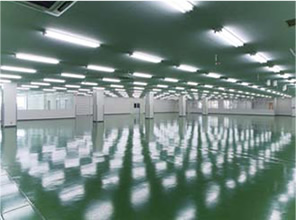 Spare clean room space
About manufacturing conditions
Liquid nitrogen supply tank
The supply of liquid nitrogen is available around-the-clock to ensure quality stability of lead-free products.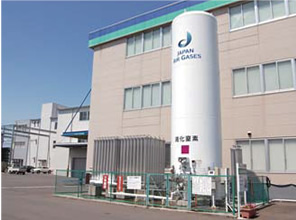 Liquid nitrogen supply tank
Electronic Parts Storage
The temperature and humidity are controlled, and first-in first-out is practiced to manage electronic parts.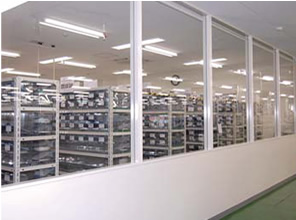 Electronic parts cabinet
Production line
Our surface mounting is capable of 50mm x 50mm to large size, 03015 microchip, 0.3mm or smaller pitch, QFP, BGA, CSP, discrete circuits and mixed circuit boards. Besides, dip soldering chamber and other processes are available to seamlessly meet lots of customers' requests, to ensure quality, to expedite delivery and to reduce cost.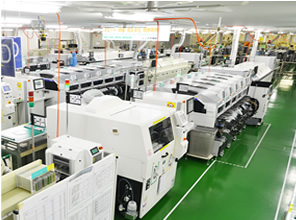 Production line
Reliable quality verification system
Besides the quality verification system on the production sites, to prevent workers' errors, we refer the operations to the records using our latest traceability with computers and QR codes.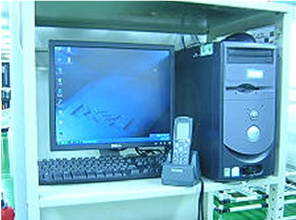 Barcode system
Testing equipment/machining facilities
There are a number of general-purpose inspection instruments and processing machines, with which the Design and Development Division develops their own special testers, and with which the Metal-Cutting Division processes customized components to meet various requests from our customers.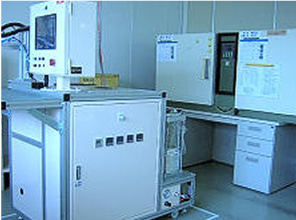 In-plant facilities of the Electronics Division
Mounting line
We widely support high-density surface mounting, discrete circuit, mixed circuit boards, large size, irregular shape and multi-layer, and we flexibly meet your requests such as quantity and production schedule. Additionally we have installed lead-free reflow ovens for long to comply with lead-free solder, and we have learned optimal temperature profiles for various boards and have been supplying our products for diverse applications such as automobile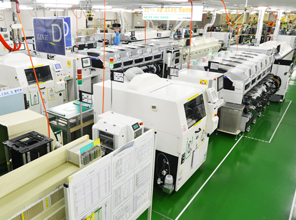 Mounting line
DIP soldering bath
Our flow soldering supports both lead-free and leaded solder. Manufacturing conditions and reliability for completed goods are carefully verified for efficient soldering. For precise soldering repeatability, mixed boards with chip components and manually inserted components are automatically soldered using fixtures such as dip pallets. We have supplied for luxury brand cars.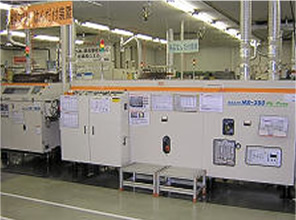 DIP soldering chamber
Product inspection line
With the introduction of 3D image inspection unit, we aim for precise detection and offer reliable quality not only for chip parts but also narrow-pitch QFP so that we can offer high-quality products to ensure customer satisfaction.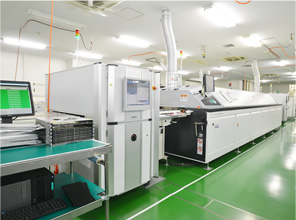 Product inspection line
Assembly line
Thanks to State-of-the-art dip soldering chambers, manual assemblies by skilful operators and manual soldering per our certification system, we supply various products. We manufacture, test and adjust automobile components, communication devices, oxygen analyzers and disital devices to provide seamless service for our customers.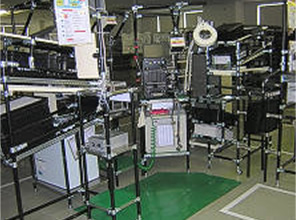 Assembly line
In-house procurement of components/parts
Each electronics product is made using a number of electronic components/parts. We answer to the needs of customers and offer advanced order as requested by customers by taking full advantage of the network built with excellent companies from our long years of experience and offer the procurement of components/parts that utilize our in-house production management system.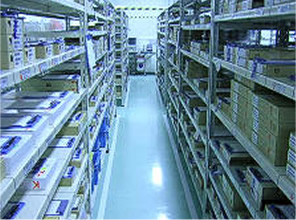 Electronic components/parts storage
Quality control system
Our quality control complies with ISO 9001 and ISO 14001. Based on the technologies we have developed, at the prototype stage we evaluate its processes, FMEA, process capability and reliability to deliver only conforming products to our customers.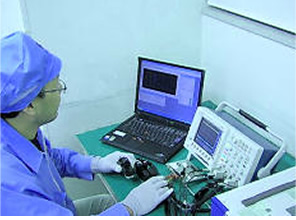 Quality control
Our main products
In-vehicle switches
From in-vehicle ECU to power window switch, we offer the assembly of various boards to support safety and convenient driving with high reliability.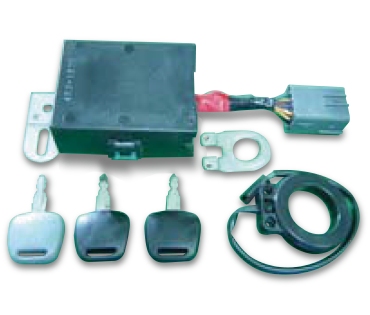 Security system
We employ a security system for industrial equipment with a dramatically improved anti-theft performance to protect valuable industrial equipment.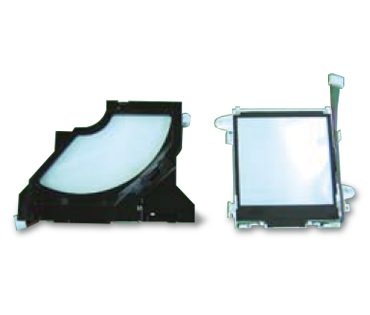 In-vehicle backlight
We manufacture and supply thin, energy-saving and uniform luminance backlight assemblies for navigation displays to domestic and overseas car makers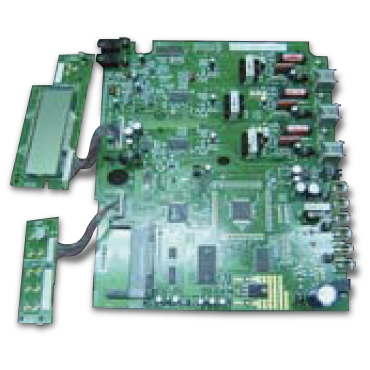 Answering machine
This is shipped to domestic major telephone manufacturers. Lots of companies use their telephones.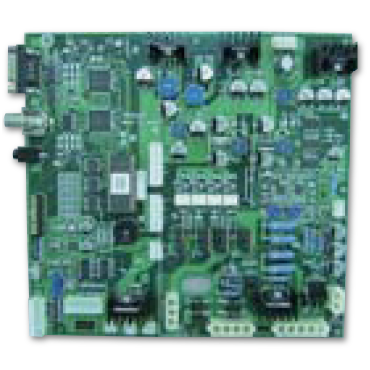 Medical equipment
Our products are used by major medical equipment manufacturers. Our high-quality and highly reliable products support people's wellness.