Description of Business

Digital solution for a better future
By offering digital solutions adapted to the environment, we are making various efforts toward a brighter future to achieve integrated manufacturing from design to installations and improve technology.
Environment Solution Division
The fusion of environment and digital solutions
Digital solution anticipating unlimited possibilities.
By making use of vast experience, skills and creativity cultivated in this business, we utilize digital technology to cause the innovation to better environment. Eco-friendly, more healthy, more convenient. It is our pleasure to create bright future using our latest technology.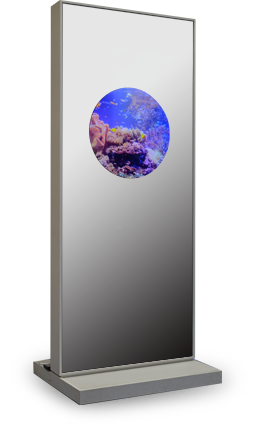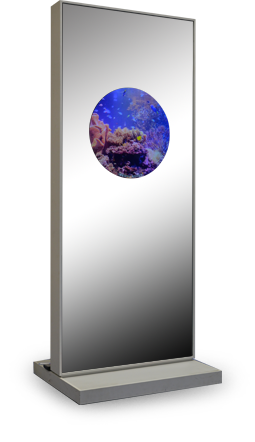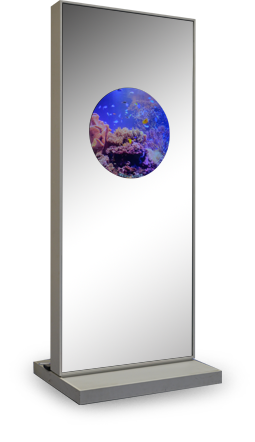 Change the existing display windows into digital signages.
The touch sensor can be operated even over the glass window, which makes the display window work like a big smartphone. Thanks to its switchable mirror mode, it behaves like a mirror rather than a monitor showing images when it is switched off, and it overlays images and information when it is on. This mysterious effect atracts audience.
Its motion sensor enables arbitrary switching according to a scene. For example, a full-length mirror usually shows an artistic image, then a mirror image when a person approachs, and even information when the person is closer. This system without the need of sensors nor cables around is available, expanding ideas, not only for advertising media but also for architecture, spatial design, furniture and other product materials.
Protecting our air.
Eco-friendly space sterilization system
The special nozzle developed applying JAXA's (the Japan Aerospace Exploration Agency's) patent.This technology which maximizes combustion efficiency beyond the conventional atomization has achived effective spatial deodorant sterilization with enhanced energy efficiency and reduced cost. It reduces running cost, noise, space and even lowers temperature by 2 to 6 ℃ to ease heat island phenomenon contributing to the prevention of global warming.

AIR misty nozzle
A light guide plate that realizes both energy conservation and visibility.
Our light guide plays an important role at public places such as stations, airports, hospitals all around the country.